Shikoku Karst: Cow-Walking
– A bovine companion, a new outlook on
the cycle of life. –
The Shikoku karst is considered one of Japan's three major karst landscapes.
A 1,400m-elevation landscape of limestone and expansive meadows where cows are put out to pasture, tremendously popular as a feature of summer.

Did you realize the cows here are actually beef cattle?
Mezuru Farm serves the role of taking charge of cows from throughout Ehime prefecture from spring through fall, assisting with calving and raising the cows to be sent to market.

This is a program for learning about the cows and accompanying one
on a walk to learn lessons about life as well.
Program Flow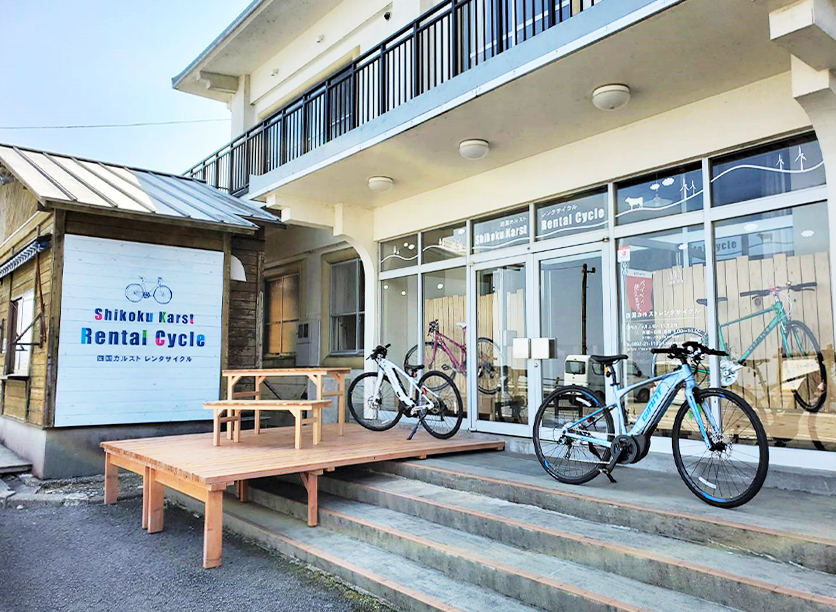 1
Check in at the Rental Cycle Station
Visit the Rental Cycle Station next to Mezuru-sō Inn for check-in.
Be sure to have check-in taken care of 10 minutes before cow-walking starts.

2
Head to the cowshed
Participants should make their way to the cowshed in their individual bicycles. The cowshed can be reached a very short distance from the check-in location.
* Points to note before entering the cowshed: Please come wearing footwear you won't mind getting dirty and clothes that are easy to work in. Be sure to always follow the instructions of staff in interacting with the cows. All small children must be accompanied by parents or guardians, please.

3
Learn about the work of a cowhand
Lend an ear to what cattle raiser Mr. OZAKI has to say while you see the cows for yourself in person.
What kind of cows are these that are being raised here on the Karst?

4
Go for a walk with a cow
Take a walk through the karst accompanied by a staff member and a real live cow.
5
Take a photo portrait
Pose for a commemorative photo. Don't forget to share on social media.
#GoGoKumakogen
Event Snaps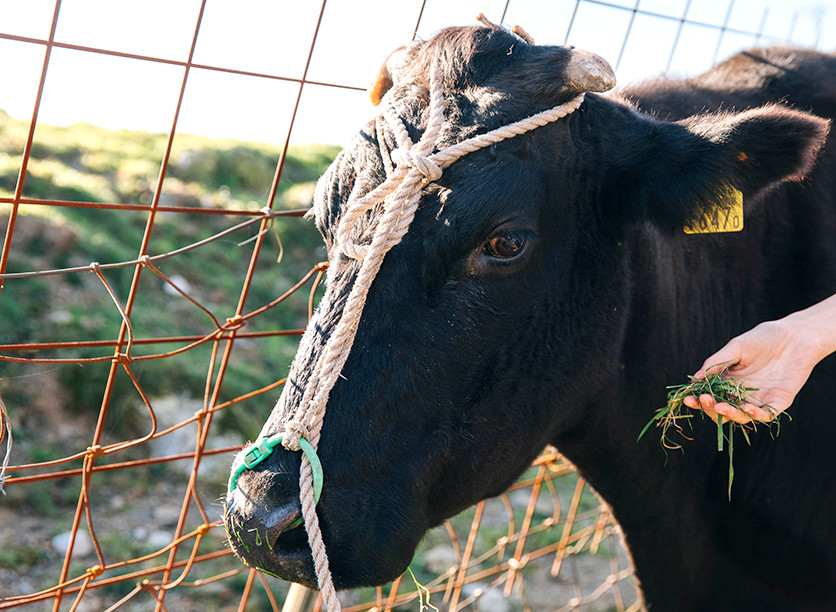 Event Details
Dates

To prevent the spread of the new coronavirus, the event has not yet been decided.

Once the date and time of the event have been decided, we will announce it here.
Length

30〜45 mins per time

Location

Shikoku Karst Rental Cycle Station (Next to Mezuru-sō Inn)

[

google map

]
Event Program
& Schedule

① Experience performing the work of a cowhand in the cowshed
② Taking a cow on a walk through the karst
Fee

¥1,500

(Tax included / Includes souvenir)
Capacity

From 1 person up
Contact

Kumakōgen-chō Tourism Association

Tel:0892-21-1192

MAIL:info@kuma-kanko.com

※Same-day reservations accepted