Omogo-kei gorge:
River platforms & cider - Leisure play, accented by waters of emerald green. -

The Omogo-kei gorge, one of the largest in all Shikoku, offers a range of unique scenic views with its granite composition. Known as the headwaters of the Niyodo-gawa river as well, featuring the highest water quality in Japan,
its waters sparkle on their surface in emerald green.

For a limited time in season, raised platforms are set up in the river in front of the massive and curiously-shaped Kamebara ("Tortoise Belly") cliff at Goshikigawara ("Five-Colored Riverbed") at the entryway
to the gorge.
The view of Kamebara from a platform in the river where you recline,
sipping a glass of Omogo Cider is unbeatable!
Those with enough time are encouraged to give canyoning a shot too!
Program Flow
1
Peruse the photos exhibited at Keisentei Omogo-chaya
Entries to the annual Omogokei Photo Contest are exhibited here.
Get to know the different faces the Omogo-kei gorge displays over the course of the four seasons.

2
Pick up some cider
Buy some blue-tinged cider where it's offered for sale next to Keisentei.
3
And now! To the river platforms
Try having a seat on a river platform set up in the river.
Watch your step to make sure you don't slip!

4
Take a photo portrait
Try posing with a glass of cider in hand just like in the poster.
A photogenic look, no doubt! Don't forget to share on social media.
#GoGoKumakogen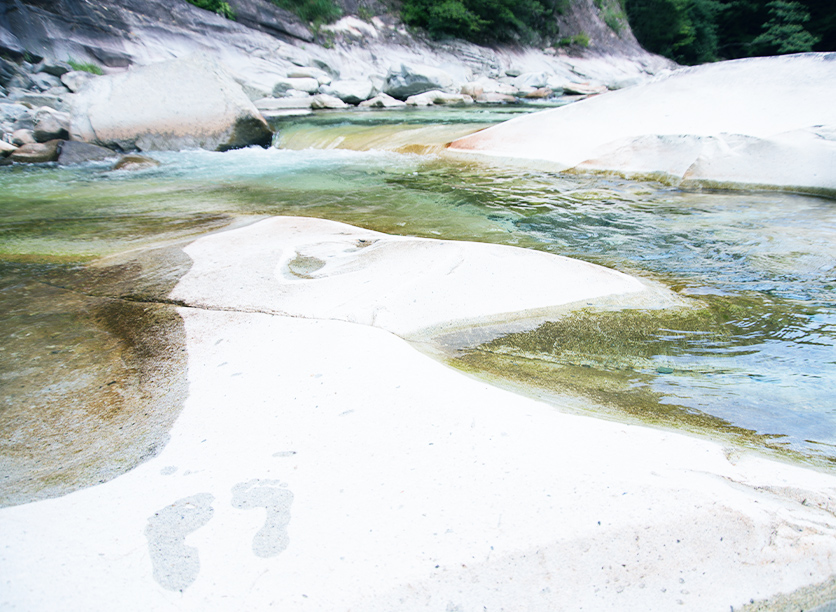 5
Have fun in the river
Enjoy some river recreation in crystal clear waters!
Have a swim, if you like, or take a stroll along the walkway.

Event Details
Dates

9/27 (Sun) & other dates
※Other dates will be announced online as soon as they are determined.
Location

In front of Kamebara in the Omogo-kei gorge

[

google map

]
Event Program
& Schedule

10:00 - 16:00
Fee

Omogo Cider: ¥550 (Tax included)

Capacity

From 1 person up
Contact

Kumakōgen-chō Tourism Association
Tel:0892-21-1192
MAIL:info@kuma-kogen.com